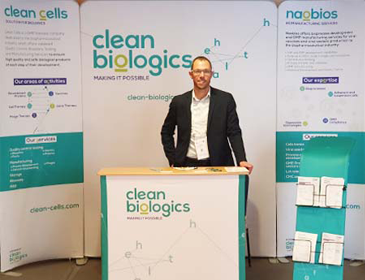 Save the date ! Congresses: meet our teams!
Congresses: meet our teams!
Teams at Clean Cells, Naobios and Biodextris are traveling the world to attend major conferences and congresses within the biotech sector. As leaders of the biopharma field, our mission and our drive at the Clean Biologics group are to remain both reachable and up-to-date with regards to the latest developments and innovations.
Do not hesitate to reach out to our teams to setup a meeting or to request preliminary information or documentation in anticipation of a meeting.
Our companies offer integrated services for the development of bioprocesses, the GMP manufacture and GMP testing of a wide range of biological substances.
Our teams will attend events separately or together and will be pleased to answer any enquiry you may have prior, during or after the event. We will attend events on-site whenever possible, or remotely, depending on local regulations.
We look forward to meeting your there.
In the next few months, our teams will attend the following events: