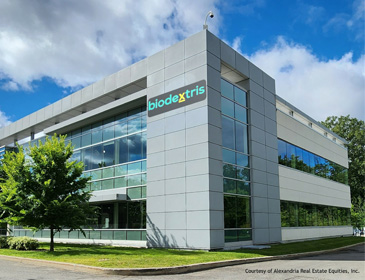 Biodextris' Press Release
Biodextris invests in a new biologics Contract Development and Manufacturing Centre (CDMO)
Montreal – Laval, February 13, 2023 – Biodextris Inc., a subsidiary of Clean Biologics SAS, announces the development of a new industrial-scale vaccine and biologics development, manufacturing and packaging plant (CDMO). The new facility will support companies in the development and characterization of next-generation biological products and will help bridge the gap between research projects and large-scale commercial production. The project amounts to a $25 million investment in indoor layout and state-of-the-art materials and equipment.
Located in the heart of Laval's Biotech City, the team of experienced scientists will occupy an existing 30,000 sq. ft. building that will be custom developed to meet Biodextris' needs. The centre will include three main spaces: laboratory space dedicated to bioprocess development, analytical laboratories for development, method validation and quality control of manufactured products and finally, five dedicated cGMP biomanufacturing suites. The production service offer will be enhanced by the addition of larger volume bioreactors (50 to 200 liters) and by the addition of an aseptic filling capacity.
This project has received significant support from the governments of Quebec and Canada and from Investissement Québec. The Quebec government granted a $4 million loan under the ESSOR program, managed by Investissement Québec. Investissement Québec also granted a $1,4 million loan through its own funds. For its part, the Government of Canada is supporting the project with a repayable contribution of $1 million, granted under the Regional Economic Growth through Innovation program of Canada Economic Development for Quebec Regions (CED). CED's assistance will be used to purchase and install biology, biophysics, and medical chemistry equipment. This equipment will enable the SME to become more competitive and continue to grow.
The new biomanufacturing center (cGMP) and its analytical capabilities will be an asset in the development of Biodextris as a world-class CDMO. "Our company's biologics development scientist team will be able to support our customers and offer them a range of integrated services and the most advanced technologies, from the initial development phases, through clinical trials, to commercial manufacturing of the product," says Alain Carrier, General Manager of Biodextris.
"The life sciences sector is a cornerstone of Quebec's economy, and our expertise is recognized worldwide. Investissement Québec is proud to support Biodextris, a key player in this industry, in its expansion and productivity improvement project. Through our Productivité innovation initiative, the company will acquire new state-of-the-art equipment, which will help bolster Quebec's expertise in vaccine manufacturing," says Guy LeBlanc, President and CEO of Investissement Québec.
"Our government is committed to stimulating research and development of new biological products, as it is doing with this Biodextris expansion project. We want to help improve the public's quality of life and increase the vitality of our life sciences industry," says Pierre Fitzgibbon, Minister of the Economy, Innovation and Energy, Minister Responsible for Regional Economic Development and Minister Responsible for the Metropolis and the Montréal Region.
"This project drives and reasserts Laval's Biotech City's position as a leader in the life sciences sector. This new facility will consolidate Quebec's expertise in biotechnology and will be a major asset in developing and attracting new talent to the region," says Christopher Skeete, Minister for the Economy, Minister Responsible for the Fight against Racism and Minister Responsible for the Laval Region.
Annie Koutrakis, Member of Parliament for Vimy and Parliamentary Secretary to the Minister of Transport, is delighted with this contribution. "We are helping businesses equip themselves with what they need so they can remain competitive, prosper, and create good jobs. Thanks to our government's financial assistance announced today on behalf of the Minister of Sport and Minister responsible for CED, the Honourable Pascale St-Onge, Biodextris will be able to continue to innovate in a cutting-edge field and strengthen its position in the industry and on the markets, which will also help stimulate the regional economy. This support, which aligns with our economic recovery plan, will thus benefit the entire metropolitan region of Montréal and enable the Canadian economy to bounce back even stronger."
The new centre will begin operations in the summer of 2023, and the Company expects to add about 15 highly specialized staff members to its team over the next few years.
About Biodextris Inc.
Founded in 2015, Biodextris Inc, a subsidiary of Clean Biologics SAS backed by Achimed Global Health Industry Investor, provides clinical manufacturing process analysis and development services and quality control testing for clients in the vaccine and biologics industries. The company is staffed by experienced biologics development scientists, and key team members have worked together in medium and large vaccine development and manufacturing companies for almost twenty years. The Biodextris team provides its extensive pharmaceutical company expertise in a more personal and interactive setting to clients of various sizes. The company develops, manufactures, and tests a wide range of biological products for vaccine, pharmaceutical, and other applications. Biodextris has the experience and expertise to develop high-quality, robust, and marketable products, while acting with the flexibility and sense of urgency required by small organizations.
About Investissement Québec
Investissement Québec mission is to play an active role in Québec's economic development by spurring business innovation, entrepreneurship, and business acquisitions, as well as growth in investment and exports. Operating in all the province's administrative regions, the corporation supports the creation and growth of businesses of all sizes with investments and customized financial solutions. It also assists businesses by providing consulting services and other support measures, including technological assistance available from Investissement Québec – CRIQ. In addition, through Investissement Québec International, it also prospects for talent and foreign investment and assists Québec businesses with export activities.
For information
Biodextris Inc.
Daniel Granger
T. 514-232-1556
daniel.granger@acjcommunication.com
Investissement Québec
Dominik Boudreault Lapierre
Advisor, Media and Government Affairs
T. 438-260-3348
dominik.boudreaultlapierre@invest-quebec.com