Vision & ambitions
Human, environmental and ethical values shared by all
Our commitment and enthusiasm serve our know-how and skills as we work to further innovative projects while maintaining core values : kindness, trust and respect.
All of the actions undertaken by the group aim at keeping a balance between our stakeholders' expectations, the performance of our companies (Clean Cells, Naobios & Biodextris) and environmental protection.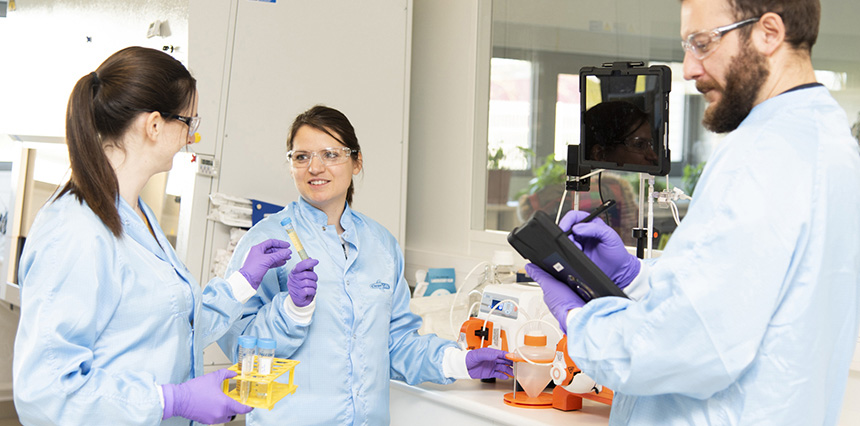 Human welfare: at the heart of management policies
Our management policies have always been planned around human welfare. While significantly increasing the headcount, our will and goal are to maintain human values and a family-like quality.
The welfare and personal development of our collaborators are part of our priorities. The interest and meaning of each project are shared by all. These company pillars contribute to the group performance and to the improvment of tomorrow's medicines, and are solidified by expertise, transparency and authenticity.
No sound strategic project is complete without the involvement of collaborators and there is no involvement without meaning, respect, cooperation and coconstruction. Each person needs to find his/her own place according to his/her wishes and skills. Of course, wishes may evolve and may require learning new skills, that is why we make lifelong training a priority.
Environmental protection : one of our priorities
In order for our group to thrive, we believe that environmental protection is essential.
We have worked at implementing a strict CSR policy and we work everyday to promote the respect of our planet, of cultures, of men and women, etc.
Our organization prioritizes short supply channels by favoring collaboration with local actors – thus creating new synergies.
Innovation and progress for all
The companies of the group are using their skills to further the development of new therapeutic options to the benefit of society.
Our services ensure that both your biological products and manipulators are safe, ultimately ensuring patient safety.
During a time of significant growth, our group aims at maintaining its level of expertise while recruiting new collaborators, investing in new laboratories (investing in new laboratories) and acquiring new companies to extend our service offer.
All this while being involved in various networks (Atlanpole Biothérapie, AFSII, ACTIP, Mabdesign, BIOTECanada, Investissement Québec, etc.) whose ambitions are those of sharing, cooperation and the progress of care.