Storage
Storage services at Clean Cells: a secured solution for your pharmaceutical products and reagents
GMP-licensed company Clean Cells has provided dozens of international customers with safe long-term storage services for 20+ years and has accommodated hundreds of cell lines (microbial, mammalian, insect, etc.), virus stocks (human and non-human) and valued reagents.
A market leader in biomanufacturing and quality control testing, the company offers storage services for GMP-graded clinical material and non GMP-graded R&D material in dedicated and closely monitored areas with restricted access.
The facility can accommodate Biosafety Level 1 to 3 material and GMO-classified organisms.
Duplicated storage locations shall be made available to sponsors as we complete our brand-new HQ late 2022. Located a few kilometers from the initial storage site, this option will ensure additional security to the preservation of sentitive or valuable material.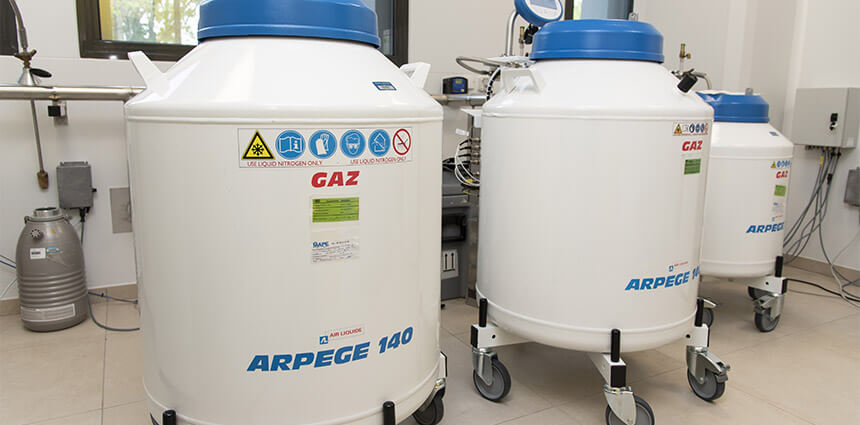 Long-term storage options
We make qualified equipment available to our customers to best suit your biological product's specifications.
Ultra-low temperature storage for eukaryotic cells: nitrogen tanks and ultra-low temperature freezers
Specific equipment is needed to achieve temperatures below -145°C, including liquid- or vapor-phase nitrogen tanks (also known as LN2 dewars or containers) and ultra-low temperature freezers which can function at temperatures below -150°C.
Clean Cells offers storage services in a separate area of the facility with the following options and characteristics:
Dedicated or shared container: in the latter case, individual boxes are provided
Vapor- or liquid-phase nitrogen (pharmaceutical grade)
Manual or automated nitrogen monitoring
Continued temperature monitoring
Externalized alarm with 24/7 on-call system
Semi-automated or manual nitrogen filling
Back-up containers
Our ultra-low temperature freezer allows storage of non-standard sized products, continued temperature monitoring and 24/7 surveillance. It is connected to a back-up generator in case of power failure.
-80°C storage for microbial cells and viruses
Microbial cells, viruses and bacteriophages require a different type of storage environment permitted by large-format freezers achieving -80°C. The following options are offered to customers:
Storage in shared containers with dedicated box or shelf
Continued temperature monitoring
Externalized alarm with 24/7 surveillance (on-call system)
Back-up freezer
Back-up power generator (in case of power failure)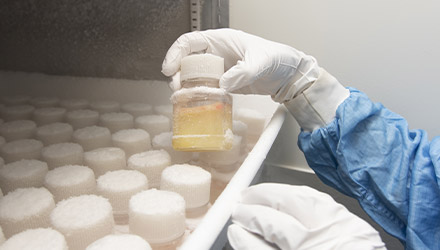 Optimal traceability through storage in a GMP laboratory
Our "Good Manufacturing Practises" (or GMP) certified facility can accommodate valuable pharmaceutical material in a highly secured environment which includes the following characteristics:
Continued monitoring of storage equipment (and nitrogen levels, if required)
Highly qualified equipment with restricted access (lock)
Enhanced data and documentation monitoring with on-demand storage reporting
Stock separation option: segregation in two containers at Clean Cells for optimized safety
High level of characterization of all incoming material
Selection and qualification of carriers with systematic probe inclusion
These additional features allow for enhanced traceability of samples from receipt for storage at our location to shipment for use at the sponsor's location.