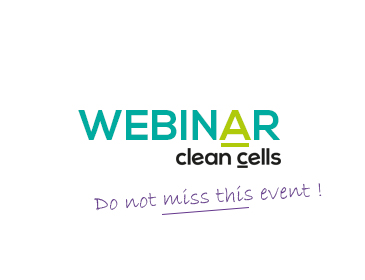 Clean Cells' webinar – Cell based therapeutic product: cytogenetic challenges and solutions
Is your cell product free from genetic abnormalities?
Do not miss our newest webinar next June 17th at 4PM! (Paris Time – recorded broadcast available for all registrants afterward)
Dr. Vasileios N. Georgakakos (cytogeneticist with 20+ years of experience in analytical karyology) and Aymeric Huguenot (Business Developer and ATMP specialist) will discuss QC and regulatory challenges and solutions relating to the safety testing of cells based medicinal product using cytogenetic tools.
Make sure your cells based products do not carry anything from the unsafe list before taking them to the health authorities! Come and listen to the insights of our expert and get additional knowledge on how to investigate your innovative cell product for genetic abnormalities through compendial FDA and EMA compliant methods using karyology with G-banding, FISH analysis and more.
The webinar will be divided into two parts: an overview of current regulations, type of products included and a technical description of the assays. Then, it will be followed by two case studies to illustrate a practical use of the methods on CAR-T and Stem cells.
At any moment during the presentation it will be possible for the attendees to post a question into the chat.
Our speakers for this webinar are :

Vasileios N. Georgakakos (Ph.D) has almost 20 years of experience working on chromosome analysis using the G-banded karyology and FISH assays. He holds a PhD in the cytogenetics of leukemia by the University of Athens medical school. Following a decade of published work in the research field of haematological malignancies, he joined Clean Cells to create and develop the in-house GMP-certified cytogenetics laboratory. Currently, he is the cytogenetics and quality control manager (GMP) manager at Clean Cells.
Aymeric Huguenot holds a degree of the engineering school of biotechnology Sup'Biotech and a degree in Management and Business from ESCP Business School. After working in pharmaceutical companies in marketing roles (E.Lilly and Roche) he joined services companies working on innovative biological drugs: GenoSafe (CRO) and Clean Cells (CMO) as a business developer.

We look forward to seeing you next 17th June at 4PM !
Follow the link to register to the event: https://bit.ly/3oTEyxW (recorded broadcast available for all registrants afterward)