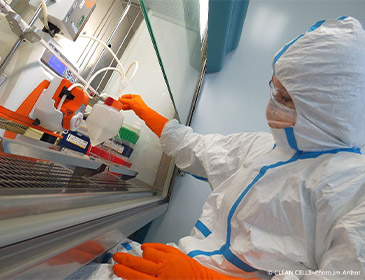 #Covid-19: Clean Cells ensures the safety of your biological material
Clean Cells has developed and validated a RT-qPCR-based assay for the detection and quantification of SARS-CoV-2 (Severe Acute Respiratory Syndrome Coronavirus 2). This method is made available to address specific characterization needs of biopharmaceutical sponsors, thus ensuring safety of products (from starting material to final lots) and operators.
The assay was designed based on the latest recommendations and guidelines from WHO for COVID-19 testing. The test targets the "ORF1AB" and "Nucleocapsid" genes for the efficient detection of coronavirus sequences.
Analytical and validation specifications for this assay have been based on ICH Q2R1 and applicable European Pharmacopoeia (§2.6.21) guidelines.
Please reach out to contact@clean-biologics.com for more information.