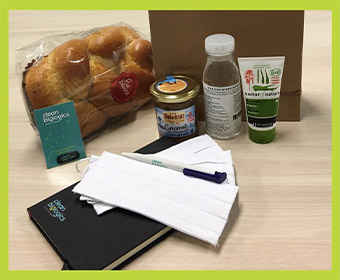 COVID-19 kits for our collaborators
The teams at Clean Biologics are closely monitoring the COVID-19 pandemic since it started late 2019 in order to ensure safety and health of collaborators.
In order to enter the post-lockdown period, we provided each staff member with a "COVID-19 kit" consisting of a bottle of hydroalcoholic solution, masks, hand moisturizing cream, a few goodies and some corporate items.
As part of our CSR policy, all products included in the kits have been designed and/or manufactured in local companies.