The quarterly scientific journal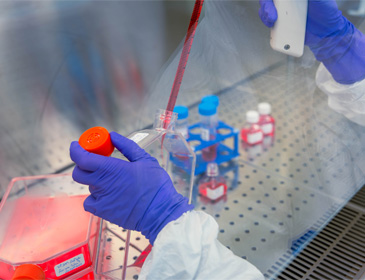 06/12/2022
Characterization and control testing of lentiviral vectors and derived products
The development of safe gene therapies through testing of viral vectors is at the heart of our commitment at Clean Cells. We manifested an interest for Advanced Therapy Medicinal Products very early on and consequently validated suitable methods according to ICH Q2R1 guidelines in order to meet regulatory and cGMP expectations when testing viral vectors. In particular, Clean Cells has partnered with customers on dozens of gene therapy testing projects, involving testing of lentiviral vectors and CAR-T products.
In order to support the development of these products, Clean Cells provides a comprehensive panel of services dedicated to the testing of lentiviral vectors at each step of the production.

Testing lentiviral vectors from cell bank to final product
Our portfolio of GMP assays for the characterization and testing of lentiviral vector products includes:
Biosafety testing according to Ph.Eur. and FDA/USP with mycoplasma detection, sterility test, Adventitious Agents detection, Karyotyping on transduced cells
Detection of Replication-Competent Lentiviral particles (RCL assay) – testing in lentiviral vector lots and End of Production cells

P24 ELISA assay or RT-qPCR assays (targeting pol or VSV-G sequences) endpoint read-out
Wild-type HIV-1 strain as positive/inhibition control (handled in BSL-3 laboratory)

Direct qPCRs assays targeting HIV-1 genome (Psi, GAG, pol)
Vector Copy Number determination (VCN by qPCR SYBRGreen or Taqman probes technologies)
Determination of Physical Particle titre (PP/ml) for HIV-1-based lentiviral vectors preparations by quantification of the HIV-1 P24 antigen by ELISA technique
Determination of Infectious Particle titre (IP/ml) by Gene copy number measurements following indicator cells transduction
Transducing Units titre (TU) by FACS-assisted transduction efficiency measurements following indicator cells transduction
Residual endonuclease and residual BSA
Residual HCP for HEK293 and HEK293T cells
Residual DNA testing (host cells DNA, exogenous sequences, plasmids) including:

Host cell DNA: HEK293, HEK293T, Sf+, Sf9 cells
Viral sequences and genetic elements of interest: E1A gene from Adenovirus type 5, large T antigen from SV40 virus, Psi, GAG and pol sequences, VSV-G gene from VSV virus, kanamycin/neomycin gene.
Integrated production services and bespoke testing of lentiviral vectors
Please note that Clean Cells also offers the following services to support the development and bespoke testing of viral vectors and derived gene therapy products (CAR-T cells)
GMP cell banking services and associated biosafety testing – Our teams have manufactured several HEK293 and Sf9 banks to produce gene therapy vectors. Additional information is available here. 
Potency, karyotyping of CAR-T products including FISH analysis
Custom assay development services for characterization or release purposes.
Feel free to reach out to our team to receive additional information on our lentiviral vector testing services to support your projects.